|

E-Mail
SVH Renames Its Home Health Service "Healing At Home," Expands Throughout North Bay
April 28, 2014
Sonoma Valley Hospital's Skilled Home Health Care service has a new name and a bigger mission. The nationally-recognized program has been renamed "Healing At Home" and is expanding its services in Sonoma county and entering Marin and Napa counties.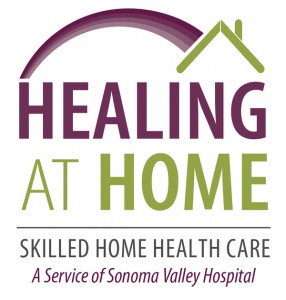 "Growing demand for high quality skilled home health care has encouraged us to look beyond the Sonoma Valley, where we have been a leading provider for 25 years," said Barbara Lee, Healing At Home Director. According to Lee, a large and growing population of seniors, coupled with an emphasis on outpatient services in health care, is driving expansion of the home health market.
The Partnership for Quality Home Healthcare reports that almost 70 percent of home health care patients are senior citizens who are more likely to live alone and have poorer health status. Healing At Home serves this population, along with any patients who require skilled care in the home. Skilled Home Health Care is different from other forms of home care because professional services are provided under physician orders for patients who are ill or injured, but do not require being in a hospital or specialized care facility.
Healing At Home provides a broad range of professional services including home I.V. therapy, enterostomal therapy, wound care, medication management, pain management, and physical and speech therapy, among others.
"Hospitals, primary care physicians and patients all agree it is better for the patient to heal at home to the extent possible, and we provide services that are personalized to meet a patient's medical and care needs in the comfort of their homes," Lee said.
Healing At Home has a professional team of Registered Nurses and Physical, Occupational and Speech Therapists, along with Social Workers and Certified Home Health Aides who visit homebound patients on a regular basis to provide care directed by the patient's physician.
Started in 1989, Healing At Home currently provides around 1,000 home visits each month. It was recognized as a HomeCare Elite™ agency in 2011 and 2012, which identifies the top 25 percent of home health agencies in the US based on performance measures. In most cases, skilled home health care services are paid for by private insurance, Medicare or Medi-Cal, or Workers Compensation.
Information on Healing At Home services is available by calling 707-935-5135 between 8:30 am and 5:00 pm, seven days a week. Information is also available on the web at www.sonomavalleyhospital.org/healingathome.