Surgical Services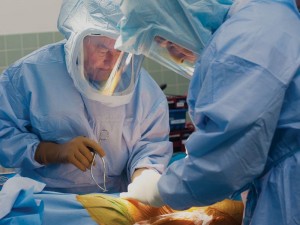 Sonoma Valley Hospital provides a complete range of surgical services, so there's no need to travel away from home for most inpatient or outpatient surgeries.
Our outstanding physicians and staff provide surgical excellence and a caring approach that meet or exceed national benchmarks and consistently gain us outstanding patient satisfaction scores. If you or someone in your family requires surgery, you should know that our staff of board-certified surgeons include fellowship-trained practitioners who span a broad range of specialties.
In 2014, we completed construction of a new Surgery Center that is among the most modern in the Bay Area. This new center,  has three operating rooms, all with the space to accommodate more complex cases and larger surgical teams. Each is equipped with integrated technology and the newest surgical equipment.
Operating rooms are located close to patient pre-operative, recovery and post-operative areas and provide increased patient privacy along with enhanced monitoring from a central observation post.
We provide patients who remain in the hospital for surgery with our special wellness program services that includes comfort bags which help patients to relax with the aid of a relaxation CD and other aids.
We perform both inpatient and outpatient procedures with the goal of restoring each and every patient to their optimal level of health. Our surgery team includes the Anesthesiology Consultants of Marin who help us ensure your safety and the best surgical outcome.
Our patients can enjoy excellent post-operative care in our own, recently renovated Skilled Nursing Facility which is the top-rated facility of its kind in the North Bay.
Among the surgical services available at Sonoma Valley Hospital are:
Orthopedics /Total Joint Replacement (Hip, Knee, Shoulder and Ankle)
Surgical Weight Loss (Bariatrics)
Spine Surgery
Urological Surgery
Ophthalmological Surgery
Podiatry
Pain Management
Endoscopy
General Surgery
Women's Surgery (Gynecological, Breast and Plastic Surgery)
Plastic Surgery
Vascular Surgery