|

E-Mail
SVH Seeks Volunteers To Serve As Health Coaches For Community Care Network
December 14, 2016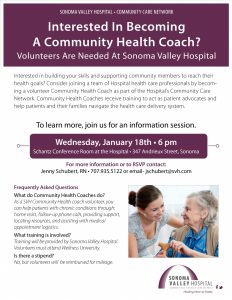 Sonoma Valley Hospital is looking for volunteers who are willing undergo training to act as health coaches in its Community Care Network (CCN). CCN is a service available at no cost to all community members following a hospital stay who would like help managing a chronic health condition. Volunteer health coaches join a team of health care professionals to help community members follow a plan of care that addresses personal health issues, serving both as a patient advocate and helping patients and their families navigate the health care system.
Health-related field experience is helpful but not required of volunteers and all will receive training to become a community health coach. Volunteers must attend the Hospital's Wellness University program. Excellent communications skills are required, and there is a need for volunteers fluent in Spanish.
Those interested can learn more about the CCN program and the role of health coach at an information session scheduled for Wednesday, January 18 at 6:00 pm, at Sonoma Valley Hospital in the Schantz Conference Room (located across from the Café).
"The Community Care Network is a new program designed to help improve the health of community members who may not have had support in the past," said program director, Leslie Lovejoy, RN, PhD, the Hospital's Chief Quality Officer. "It is an opportunity to learn more about health and wellness best practices, and the health care system, and use that knowledge to help many people in our community."  
For more information or to RSVP for the information session, please contact Jenny Schubert, RN at 707.935.5122, or by email at jschubert@sonomavalleyhospital.org