|

E-Mail
What's happening this April:
April 10, 2022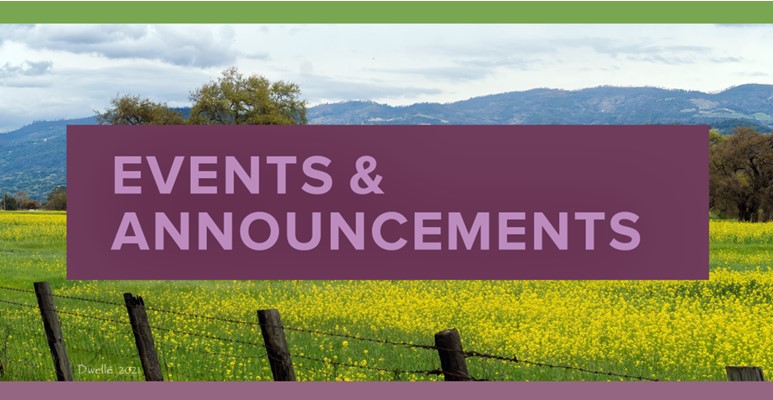 Project Pink (now year-round!)
HealthTalk: Walk-the-Walk
Advance Healthcare Directive Workshops
Community Covid Update

Now Serving the Women of our Community with No-Cost Mammogram Screenings Year-Round
Using State-of-the-Art Technology
Sonoma Valley Hospital is now offering no-cost mammogram screenings year-round for uninsured and underinsured Sonoma Valley women who are 40 years or older. Project Pink breast screenings use the Hospital's 3D Mammography System with state-of-the-art technology for improved accuracy. Project Pink is made available as a community service through a special grant from the Sonoma Valley Hospital Foundation.   To register for Project Pink, or for more information, please call
707-935-5215 or visit sonomavalleyhospital.org/project-pink/

If you would like to contribute to Project Pink, please visit svhfoundation.com to make a donation.

Walk-the-Walk: Walking with a Purpose
Part 1: Wednesday, April 13, 5:30 pm to 6:30 pm
Part 2: Wednesday, April 27, 5:30 pm to 6:30 pm
In this two-part HealthTalk series, Marek Grzybowski, Physical Therapist at Sonoma Valley Hospital, will share results from some exciting new studies which have found that people who remain physically active are less likely to suffer from cognitive decline associated with aging. He will share tips and suggestions for creating a walking program adapted to your personal lifestyle and fitness level.

SIGN-UP: Register at vintagehouse.org/classes or by calling 707.996.0311. There is no cost to participate, but space is limited and reservations are required. HealthTalk takes place at Vintage House, Room 105, 264 First Street East, Sonoma.

Who Will Speak For You When You Can't?
Advance Healthcare Directive Workshops
The next time your doctor asks if you have an Advance Healthcare Directive in place, wouldn't it be nice to answer, "yes"?
An interactive workshop (in-person or virtual) will be held twice on:
Wednesday, April 20
Day: 1:30 pm to 3:00 pm
Early Evening: 5:30 pm to 7:00 pm
This workshop will take the mystery out of drawing up an Advance Healthcare Directive (AHCD), a vital document that spells out your healthcare wishes when you can't speak for yourself. We encourage everyone 18 years older to attend including families, partners, caregivers, and healthcare providers. Step-by-step instructions will be provided and the Hospital's Medical Director for Emergency Care, Dr. Jasper Schmidt, will be available during the Q&A session to answer questions. The workshop is a collaboration between By The Bay Health, Vintage House, and Sonoma Valley Hospital.

SIGN-UP: Register online at vintagehouse.org/classes or by calling 707.996.0311. Specify type of participation, in-person or virtual, at time of registration. There is no cost to attend. In-person sessions will be held at Vintage House, Room 105, 264 1st Street East, Sonoma, and seating is limited – so sign-up early.


At the end of March, 88.2% of Sonoma Valley* residents were fully vaccinated (1st and 2nd primary doses) of which 64% are up-to-date with the first booster. The number of cases seen in the Emergency Department have significantly declined since early March, a trend we hope continues. Thank you for masking, testing when needed, for being vaccinated, and for your trust.
*data aggregated by Sonoma County Public health for Sonoma Valley primary zip codes: 95476 and 95442 
2nd Booster  
For those eligible, the 2nd Covid Booster can be obtained in Sonoma Valley and at various locations throughout Sonoma County. Learn more at:  svhpvaccines.org. 
Who is eligible for a second booster?
Adults 50 and older can get a second booster dose of either the Pfizer-BioNTech or the Moderna vaccine at least four months after their first booster.
Individuals 12 and older who have certain immunocompromising conditions can get a second Pfizer booster at least four months after their first booster.
People 18 and older who have certain immunocompromising conditions can get a second Moderna booster at least four months after their first booster.
Adults who received a primary vaccine and booster dose of Johnson & Johnson's (Janssen) vaccine at least four months ago can get a second booster dose using an mRNA COVID-19 vaccine.
Source: FDA, CDC, AARP 
For more information on getting a second booster, click here. 
---
Events courtesy of Sonoma Valley Hospital and Vintage House
HealthTalkTM, is an education outreach program of Sonoma Valley Hospital, providing our community with the latest information on health and wellness topics to help take charge of our health and well-being. Contact Sonoma Valley Hospital's Outreach Team to learn more at 707.935.5257 or email community@sonomavalleyhospital.org.

Vintage House: Founded in 1977 and incorporated as a nonprofit in 1983, Vintage House is a nonprofit membership-based organization dedicated to life-long learning, enhancing well-being, and supporting independent living for all Sonoma Valley seniors. Vintage House embraces respect and inclusivity as core values and believes that seniors are a vital, valued part of our community. For more information about Vintage House please visit www.vintagehouse.org.
Questions? Call us anytime. 707.935.5257. Thank you!