Novel Coronavirus 2019 (COVID-19)
Last Updated: Monday, July 6, 2020 | 3:30 pm
Sonoma Valley Hospital is monitoring the Novel Coronavirus 2019 (COVID-19) outbreak and has implemented readiness and response protocols specified by the Centers for Disease Control and Prevention (CDC), the California Department of Public Health (CDPH), and Sonoma County Department of Health Services (SoCoDHS). This page provides information that will be regularly updated for our community from CDC, CDPH, SoCoDHS, and other reputable sources.
ORDER OF THE SONOMA COUNTY PUBLIC HEALTH OFFICER: No. C19-15 (Date of Order: June 18, 2020) Summary. Widespread compliance with the Sonoma County Health Officer's COVID-19 Orders has been successful in "flattening the curve" and interrupting transmission of the virus. The Health Orders have been tailored to address the unique characteristics of the County's economy and virus transmission. New State Orders now allow counties to expand reopening further into the Governor's Recovery Roadmap which now includes gyms, fitness centers, movie theatres, entertainment centers, casinos, cardrooms, racetracks, bars, zoos, museums, galleries, aquariums, hotels and short term rentals (for tourism and individual travel), campgrounds, schools and school-based programs, and personal care services … Read More ENGLISH SPANISH
Sonoma County COVID-19 Employee Check – Mobile APP (added 06.02.2020) The County is committed to supporting the business community in a phased approach to reopening. One component of this approach is a business's ability to mitigate the risk of the spread of Coronavirus. To support this process, the County has developed a number of tools and resources, including the SoCo COVID-19 Check app. This mobile app is part of the County's larger strategy to support businesses and workers during this challenging time. Our goal is to help businesses reopen as quickly and safely as possible. LEARN MORE
COVID-19 TESTING (updated Monday, July 6, 2020)
Community-wide COVID-19 drive-through testing in Sonoma Valley – Call: 707.935.8005 to learn more or visit SVCHC .
In collaboration with Sonoma Valley Community Health Center , Department of Public Health, Supervisor Gorin, Sonoma Valley Hospital, and Altimira Middle School; Sonoma Valley now has local access to no-appointment required drive-through COVID-19 testing for anyone whether they are COVID symptomatic or asymptomatic (symptom-free). This service will be available in the Valley until Friday, July 31.

Sonoma Valley Community-wide COVID Testing Sites and their hours (updated June 29, 2020)
Sonoma Valley Hospital: NEW Tuesday and Wednesday, 5:00 pm – 7:00 pm pm, located at the South Parking Lot on 4th Street West (south of the intersection of Andrieux and 4th Street West)
Altimira Middle School: NEW Saturday 11:00 am till 2:00 pm (17805 Arnold Drive, Sonoma)
Call 707.935.8005 to learn more.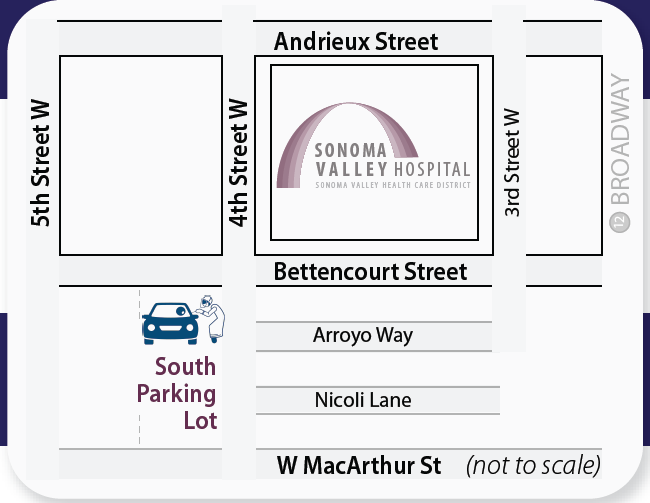 Sonoma County's Virtual Local Assistance Center (VLAC)
The Virtual Local Assistance Center is a resource listing of government and support services to help residents impacted by COVID-19. This site will be regularly updated to provide updated content and a better user experience.
City of Sonoma: Community Resources
State of California COVID-19 Resource Page: covid19.ca.gov
FEMA: Coronavirus (COVID-19) Rumor Control
Centers for Disease Control and Prevention (CDC)
California Department of Public Health (CDPH)
Sonoma County Department of Human Services (SoCoDHS)
Sonoma County Emergency and Preparedness (SoCoEmergency)
Sonoma Valley Hospital
University of California San Francisco (UCSF)
John Hopkins University – Coronavirus Resource Center
COVID-19 In The News