Novel Coronavirus 2019 (COVID-19)
Last Updated: Monday, October 18 | 10:40 AM
---
Sonoma Valley Hospital is monitoring the Novel Coronavirus 2019 (COVID-19) outbreak. This page provides information that will be regularly updated for our community from CDC, CDPH, SoCoDHS, and other reputable sources.
---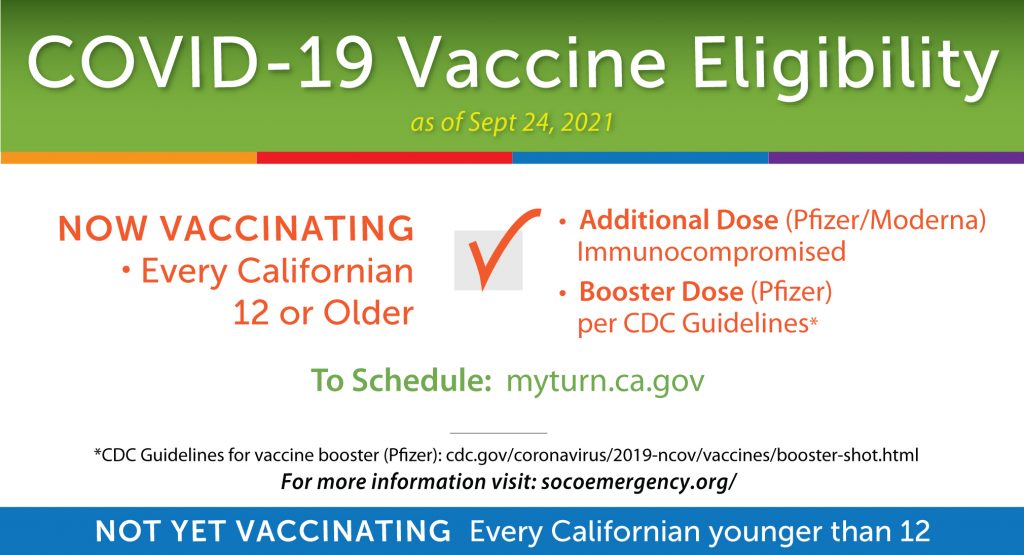 ---
SCHEDULE YOUR VACCINE at MyTurn.Ca.Gov HERE
Vaccination and Covid Testing Clinics in Sonoma Valley HERE at Sonoma Valley Health Partners webpage.
---
Sonoma Valley Unified School District Forum – Covid Vaccine Update, Held Tuesday, October 5 (English)
Presenting were Dr. Sabrina Kidd, SVH Chief Medical Officer and Dr. Jerome Smith, MD and Pediatrician.
CLICK HERE to view slide presentation.
To view the entire recorded session, CLICK HERE
Send questions to us at: community@sonomavalleyhospital.org
---
Virtual Community COVID-19 Held Tuesday, September 21 :
Use this link to view the presentation. CLICK HERE.
Download a copy of Dr. Sabrina Kidd's presentation HERE
---
Need a copy of your COVID vaccine record?
You can obtain a copy online by making a request to the California Immunization Registry (CAIR)
Request Your Immunization Record Here
---
Effective August 11, 2021:
ENTRY SCREENING CHANGES FOR ALL NON-PATIENT VISITORS
At Sonoma Valley Hospital:
California Department of Public Health has issued a new Public Health Order (CDPH, 08.05.2021/Visitations) affecting all hospital non-patient visitors effective Wednesday, August 11.
You can view the official order from the State Public Health Officer HERE.
ENTRY SCREENING CHANGES FOR NON-PATIENT VISITORS:

Proof of full** vaccination for COVID-19 OR
Proof of a negative COVID-19 test*** collected no more than 72 hours before each visit.
Following verification, standard entry protocols will follow with screening for symptoms and exposures to COVID-19.
Acceptable forms of proof of vaccination include per CPDH Guidance for Vaccine Records, only the following modes may be used as proof of vaccination:
COVID-19 Vaccination Record Card (issued by the Department of Health and Human Services Centers for Disease Control & Prevention or WHO Yellow Card) which includes name of person vaccinated, type of vaccine provided, and date last dose administered); OR
a photo of a Vaccination Record Card as a separate document; OR
a photo of the client's Vaccination Record Card stored on a phone or electronic device, OR
documentation of COVID-19 vaccination from a health care provider; OR
digital record that includes a QR code that when scanned by a SMART Health Card reader displays to the reader client name, date of birth, vaccine dates and vaccine type.
* Exceptions may be granted for visitors of patients nearing end of life.
** "Full vaccination": two weeks AFTER the second dose of a two dose regimen (Pfizer, Moderna) or one dose of a one dose regimen (J&J).
*** PCR tests and antigen tests are both acceptable forms of COVID-19 testing.
---
COMMUNITY COVID GUIDELINES FOR HIGH RISK EXPOSURE OR CLOSE CONTACT WITH POSITIVE CONFIRMED CASE
(August 14, 2021)
We are providing conservative guidelines (see below) to address immediate concerns and needs due to high risk exposure or
contact with a positive confirmed case based upon CDC Guidelines.
---
Sonoma Valley Hospital has adopted California Department of Public Health's Crisis Continuum Guidelines. Learn more HERE
---

Learn about the eight (8) things you need to know about the COVID-19 Vaccine Program and COVID-19 Vaccines HERE
Vaccine Distribution – Sonoma County: Learn about our County's role and responsibility in the rollout of the COVID-19 vaccine and the County's distribution plan. HERE
---
For the Holidays: Gatherings during the upcoming holidays can be an opportunity to reconnect with family and friends. This holiday season, consider how your holiday plans can be modified to reduce the spread of COVID-19 to keep your friends, families, and communities healthy and safe. Learn more from the Centers for Disease Control and Prevention (CDC) HERE.
---
Sonoma County Data – Detail

(Demographics, Region, and more): LINK
---
Sonoma County's Virtual Local Assistance Center (VLAC)
The Virtual Local Assistance Center is a resource listing of government and support services to help residents impacted by COVID-19. This site will be regularly updated to provide updated content and a better user experience.
City of Sonoma: Community Resources
State of California COVID-19 Resource Page: covid19.ca.gov
FEMA: Coronavirus (COVID-19) Rumor Control
Centers for Disease Control and Prevention (CDC)
California Department of Public Health (CDPH)
Sonoma County Department of Human Services (SoCoDHS)
Sonoma County Emergency and Preparedness (SoCoEmergency)
Sonoma Valley Hospital
John Hopkins University – Coronavirus Resource Center