Emergency Care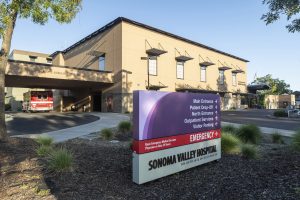 Sonoma Valley Hospital maintains the only Emergency Department and Intensive Care Unit in the Sonoma Valley, providing a safety net for the entire region. We receive most of the Sonoma Valley's emergency room visits, treating around 10,000 emergency patients each year, and our ER ranks in the top quartile in the nation for patient satisfaction. 
We recently completed construction of a new Emergency Center that is among the most modern in the Bay Area. The Marcia and Gary Nelson Family Emergency Care Center occupies the first floor of our new 12,243 square foot wing, with the new Surgery Center occupying the second floor. In addition to being a state-of the-art ER, it improves the patient experience by allowing patients to be treated faster and with greater privacy.
We are a patient-acclaimed, 24-hour, fully equipped facility, staffed by on-site physicians and nurses specially trained in emergency medicine and supported by surgeons, anesthesiologists and respiratory therapists, as well as radiology and laboratory services and all the other resources necessary to meet stringent California state standards for emergency care.
Along with traditional emergency medicine, we offer specialized services such as telemedicine which provides our ER doctors with video access to many of the region's leading specialists. We are Acute Stroke Ready Certified Hospital ready to act quickly and we work closely with UCSF Health Neurologists.  Learn more about stroke program here.  
For heart attack patients, we have an exceptional transfer arrangement with Marin General Hospital so that the time from arrival into our emergency room to the time the patient is given the proper intervention in the heart catheterization center is below the national standard of 90 minutes. 
SVH collaborates with Sonoma FireMed, the local emergency ambulance provider, to offer quick and efficient transport to the hospital by trained emergency staff. Transport services are also arranged for patients requiring procedures (such as heart surgery) that are not performed at SVH. Emergency patients and others who require specialized, life-sustaining treatment may be admitted to the Intensive Care Unit, where they receive highly individualized, around-the-clock care.
Call us for more information: Phone 707.935.5000