Laboratory Services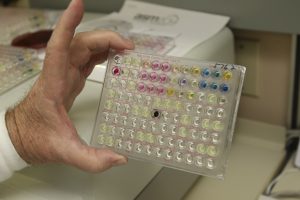 The Sonoma Valley Hospital Laboratory is integral to the care of our patients and our community. We provide a full range of diagnostic testing including STAT testing, which your physician requests be completed within one hour of the blood draw. We have skilled phlebotomists on staff to draw blood samples in all our patient care settings.
For general questions or concerns about your testing process, please refer to our Frequently Asked Questions page. If your questions are not answered, feel free to call us at the number below.
How to make an appointment – No appointment is needed for most laboratory testing. However, glucose tolerance tests require an appointment so that we can coordinate your Glucola. All other testing is done on a first come, first served basis.
Payment and Assistance – We will ask to collect any deductible, share of cost and/or co-pay at the time of registration. We will also ask for a deposit if you do not currently have insurance.  Sonoma Valley Hospital is pleased to offer the services of our Financial Counselor should you need to establish a payment plan, apply for Medi-Cal or would like information regarding our generous financial assistance program.  Please call 707.935.5021 to learn more.
Our office hours– We are open Monday through Friday, 7 am to 5 pm and Saturday, 8 am to 12 pm. Please be sure to check in with Admitting prior to coming to the Lab.
Medical Director – Frederick Kretzschmar, MD
Laboratory Manager – Nic Hadjiyianni, Technical Supervisor
Call us for more information: Phone 707.935.5185 | Fax 707.935.5437