Skilled Nursing Facility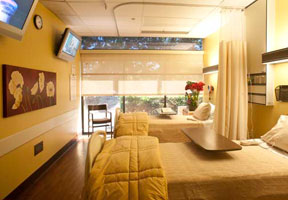 Sonoma Valley Hospital has a 27-bed Skilled Nursing Facility, providing the highest level of care for patients who no longer require acute care services but are not quite ready to return to independent living. As they continue their recovery, patients in our Skilled Nursing Unit rehabilitation programs have access to the range of hospital services to help with their healing.
It is managed by The Ensign Group, a national operator of skilled nursing and rehabilitative care services, which operates the SNF under the hospital's license with administration and board oversight.
Phone: 707-935.5120
The SNF offers round-the-clock professional medical care, including excellent nursing and 24-hour access to two on-site physicians. Other services provided on-site include:
Physical and Occupational Therapy
Speech Therapy
Disease Management
Respiratory Therapy
Educational and Support Groups
Wound Care Nurse
Registered Dietitian
Palliative Care Nurse
Hospice Program
Psychologist
Medical Imaging, MRI, CT
IV Antibiotics and Transfusions
Medical Surgical Services
Intensive Care Unit, Emergency