Rehabilitation Services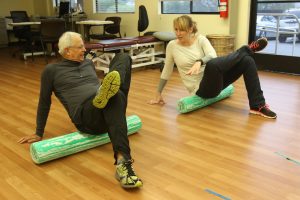 Sonoma Valley Hospital embraces the commitment to your rehabilitation resulting in better function and a fuller enjoyment of life. Our therapists know how to help you get out of pain and back in action. We treat common problems and conditions ranging from sprains and strains, headaches, work-and sports-related injuries, acute and chronic pain, tendonitis, and spinal conditions.
Our dedicated licensed therapists are highly trained professionals and use a hands-on approach in conjunction with specific modalities as needed. We have two certified orthopedic specialists and a certified hand therapist on staff, and our team works closely with your physician and other members of our integrated, comprehensive health care team. Please see your primary care physician for a referral.
Our Hand and Physical Therapy facility is located at 19312 Sonoma Hwy, Sonoma,
(behind Sonoma Fit).
Hours of operation are Monday through Friday from 7:30 am to 5 pm.
Call us for more information: Phone 707.935.5345 | Fax 707.935.5423
Services include:
Manual (hands-on) Therapy
Vestibular and Falls Prevention
Postural Corrections
Pain Management
Therapeutic Exercise
Job Site Assessments and Physical Capability Testing
Ergonomic Assessments
Speech-language, cognitive and swallowing treatment for stroke, head injury and dementia; voice therapy; children's articulation and language therapy
Occupational Therapy
Certified Hand Therapy, splinting, arthritic care
Home Management Program
SVH is a preferred provider of rehabilitation services for most insurance plans. Check with your plan for more information on covered services.
Rehab Services Manager, Christopher Gallo PT MSPT
Chief Ancillary Officer – Dawn Kuwahara, RN, BSN
Doctorate OT/Certified hand Therapist –Tracey Airth-Edblom, OTD, OTR/L, CHT
Speech Language Pathologist – Elise Alexander-Stone, MACCC
Physical Therapist – Lisa Bell, Cert. MDT, Vestibular/Concussion Expert
Physical Therapist – Christina Cary, PT DPT
Occupational Therapist – Rena Ribeiro, OTR/L
Outpatient Hand and Physical Therapy Office Coordinator- Claudia Valencia
Important Contact Numbers
Hand and Physical Therapy Outpatient inquiries      707.935.5345
Speech Therapy                                       707.935.5375
Wound Care                                             707.935.5270
Call us for more information: Phone 707.935.5345 | Fax 707.935.5423