Visiting Sonoma Valley Hospital
Leer en español
Last updated Thursday, August 4 2022
Masking continues for all SVH locations
We know how vital visitors are to our patients while they are healing. As the situation with COVID-19 in Sonoma Valley continues to change, we will be adapting our visitation policy to protect our patients, staff and community as needed.
Visitors
The rules for visiting patients at Sonoma Valley Hospital may change at any time depending on the status of the pandemic, and state and county health orders.
All visitors (when allowed) including vendors and all children (when allowed) must present evidence of being fully vaccinated and boosted (if eligible) OR if not up to date with vaccinations a negative PCR or Antigen test (no home tests allowed). Antigen tests must be collected and resulted with 24 hours. PCR tests must be collected and resulted within 48 hours. For consecutive day repeat visitors, a new test must be collected and resulted every third day. The following exceptions apply:

This does not apply to patients (inpatient or outpatient).
This does not apply to support persons (including parents) for outpatient visits.
This does not apply in emergent / end of life situations; however in these situations the individual(s) must provide proof of vaccination or a negative test as soon as reasonably possible, but no later than within 72 hours of the initial visit and for subsequent visits (every third day for consecutive repeat visitors).

Visitors are to go directly to a patient's room and remain there until they exit the facility.
All visitors and patients must wear masks while in the Hospital at all times.
Visitors are not allowed for suspected or confirmed COVID positive patients unless for an end of life and/or extenuating circumstances and approved by attending physician.
Visiting patients (when allowed):

Inpatients – Up to TWO visitors per patient may be present in a patient's room at a given time.
Emergency Department – Space permitting, up to TWO visitors per patient for the duration of the ED stay will be allowed.
Surgical Care Unit (SCU) – As capacity allows, up to ONE visitor will be allowed in the SCU and up to TWO visitors in the SCU waiting room.
Routine Patient Care – Up to ONE essential caregiver or other supportive individual will be allowed in areas where capacity allows.
Essential Caregivers – One individual may accompany a patient as indicated for all visits.

This visitation policy is subject to change by administration to comply with infection prevention, patient, and staff safety measures (updated 02.08.2022)
NOTE: The Visitation Policy does not apply to patients (inpatient or outpatient) and this does not apply to support persons/essential caregivers (including parents) for outpatient visits.
MASKING:  Surgical, not cloth, masks must be worn at all times when in our buildings, this includes staff, patients, essential visitors, contractors.

Surgical masks are available at all entrances. Cloth masks are acceptable when they are OVER a surgical mask.
---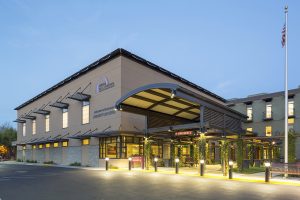 Effective, Friday, January 7, 2022 per California State Public Officer Health Order: Amending the 08.26.2021 Requirements for Visitors in Acute Health Care and Long-Term Care Settings. View full order HERE
Thank you and we appreciate your cooperation to keep patients, staff, and community safe.