Wound Care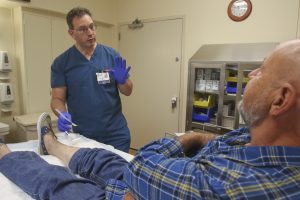 Sonoma Valley Hospital offers an individualized approach to the treatment of non-healing wounds, working closely with the patient's physician. We provide outpatient treatment for acute and chronic wounds to heal them in the shortest time with minimal pain, discomfort and scarring.
Our Wound Care Clinic is located within the hospital and regularly treats patients with wounds resulting from diabetes, infection, trauma, surgery and other conditions that lead to difficult wound healing. Our specialized services include sharp debridement, compression therapy and pulse lavage mechanical debridement.
The Wound Care Clinic can involve hospital dietary and physical therapy departments when required. We also assist patients in applying for insurance reimbursement.
If you have a wound that has not healed for several weeks, ask your physician for a referral to our Wound Care Clinic.
For more information: Phone 707.935.5270 | Fax 707.935.5272
Hours of operation are Monday through Friday from 8:00 am to 4:30 pm.
Wound Care Medical Director:  Alexis Alexandridis, MD, FACS
Wound Care Clinic- Joe Cornett, RN, WCC
Physician Referral Form –  Download PDF