Sonoma Valley Hospital Plans Installation of Temporary Structure and Renovation of Central Wing for Incoming MRI Equipment
Sonoma Valley Hospital is planning installation of a state-of-the-art magnetic resonance imaging equipment (MRI), the project will consist of interior and exterior improvements including the demolition of a portion of the Central Wing for a modular structure capable of housing an MRI and supporting equipment. Later this year, a temporary structure will be placed on-site to house the MRI machine prior to completed renovation of the Central Wing.
Upon project completion, patient access to the MRI will be through the hospital's Main Entrance, patients can take advantage of the recently constructed medical imaging waiting room lobby. The newly renovated MRI wing will be connected to the hospital, and upon completion, the facility's footprint will remain unchanged. The façade of the Central Wing will be updated along with new drought-resistant landscaping mirroring SVH healing gardens throughout SVH campus.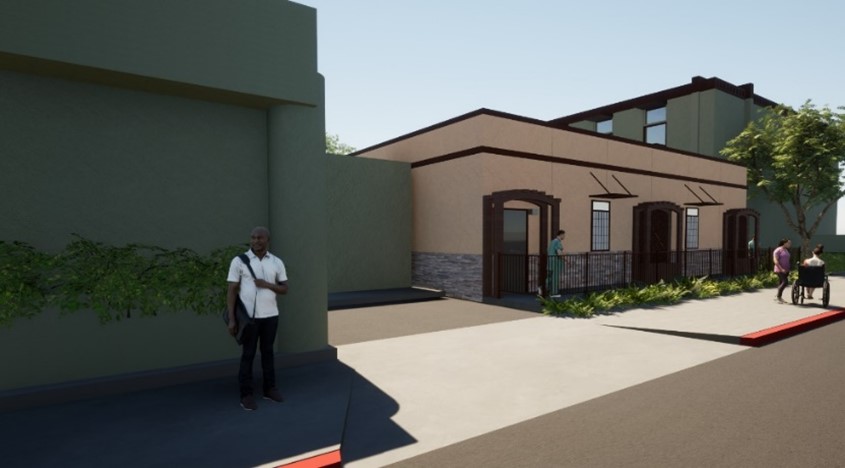 SVH's primary objective for the Central Wing renovation is to accommodate the upgraded MRI into the existing footprint of the hospital for the long term. SVH's designers have developed a floor plan, site plan, and outlined finishes that are in line with the desired look and layout of the hospital. You may visit (LINK) to view the project documents.
The modular structure's configurational objectives include:
The exterior shall be plaster with stone veneer to match the Sonoma Valley Hospital's Emergency Department building (alongFourth Street West) and the Central Utility Plant (along Bettencourt Street).
The structure will be designed with acoustical barriers to block sound from the MRI equipment and sound dampeners shall be utilized on mechanical equipment.
The structure shall implement sun visors and a dark anodized aluminum window or storefront system.
The structure shall utilize a parapet high enough to cover the view of any mechanical, electrical, and plumbing systems mounted on the roof.
The Hospital's waste stream services outside the Central Wing will be relocated to the loading lock on Third Street West.
The modular structure will house the new MRI and its support suite, which include: an area of patient dressing and holding, patient and staff restrooms, tech control room, storage and equipment rooms, magnetic and radio frequency shielding, and metal sensors prior to entry into the MRI to enhance screening protocols and patient safety. The structure will include other patient safety features, as found in the Hospital, such as a nurse-call-system. It will also include the required fire/life safety elements and mechanical systems to support the MRI equipment.
Installation of the temporary structure is projected to begin in SUMMER 2023. Central Wing redevelopment will be intermittent with site work slated for June 2024 and project completion in January 2025. The Andrieux Street corridor and parking will remain open during construction with managed traffic control measures for minimal disruptions.
You may submit any feedback or questions about this project via (LINK).