|

E-Mail
SVH Joins Statewide Effort To Improve Health Care Transitions In Local Communities
August 26, 2016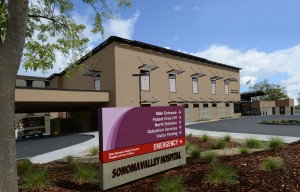 Sonoma Valley Hospital has been selected to participate in a statewide initiative to improve health care in California at the local level. The initiative is funded by the Centers for Medicare and Medicaid Services (CMS) and administered by the California Department of Public Health, as part of a five-year effort to help transform health care delivery through innovation and evidence-based strategies. SVH is one of 37 district hospitals in California included in the program.
SVH will work to improve care transitions for Medicare and Medi-Cal patients in the Sonoma Valley with the goal of reducing hospital readmission rates. Readmission became a concern with the implementation of the Affordable Care Act, which requires hospitals, as a measure of quality, to reduce the number of patients readmitted to a hospital within 30 days of discharge. The program also seeks to reduce Emergency Department use by improving care for at-risk patients.
"It takes the long view on health care," said Leslie Lovejoy, RN, PH.D., SVH Chief Quality Officer who is managing the program. "With the emergence of the population health movement and the push to reduce hospital stays and utilization in general, hospitals can no longer afford to take a short-term view on patient care. The future of health care requires we go beyond inpatient care to manage coordination of care once the patient leaves the hospital."
The SVH program will improve care transitions among providers in the 45-day period after hospital discharge, and also improve medication reconciliation. Other goals include developing community health coaching for patients, improving patient experience during transitions of care, and building a network of community support agencies to assist discharged patients.
"An added benefit of participation is that it will help us further enhance overall hospital patient care practices as we incorporate the lessons we learn into our own continuous improvement process," Lovejoy said.