|

E-Mail
Sonoma Valley Hospital Opens Modern Outpatient Diagnostic Center
July 29, 2022
Leer en español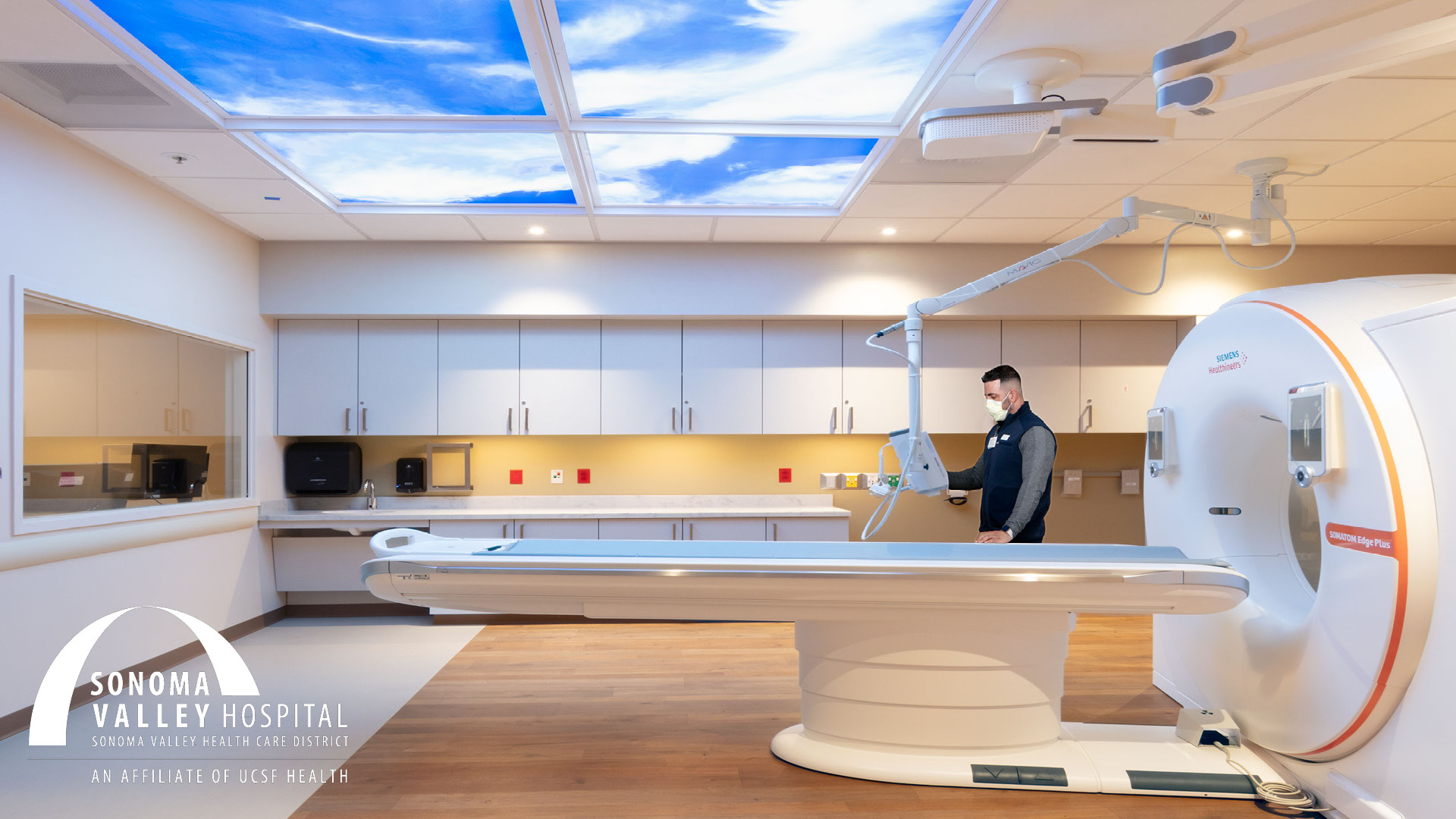 Sonoma Valley Hospital opens its new Outpatient Diagnostic Center this month with completion of the first phase of construction. This phase includes a state-of-the-art 128-slice CT scanner, a larger and more comfortable patient waiting area, and upgrades in adjacent public areas. The CT suite will receive its first patient Monday, August 22.
The new CT unit represents the latest in scanning technology, offering highest quality diagnostic scans while enhancing patient convenience and comfort. Faster scanning speeds allow patients to spend less time being scanned.
The second and final phase, which includes a new 3 Tesla MRI, along with updated ultrasound and X-ray equipment, and updated space and equipment for cardiology and laboratory services, is on schedule for completion by early 2024.
Construction was delayed as a result of Covid-19 restrictions, as well as the need to address unexpected complications in construction, said John Hennelly, SVH President and CEO.
The new diagnostic center was made possible through support by the Sonoma Valley community and major donors. A capital campaign committee was formed under the auspices of the Sonoma Valley Hospital Foundation which mounted a successful fundraising effort to raise the $21 million needed to design and build the center, including purchase of new equipment.
"We are grateful to the Sonoma Valley Hospital Foundation and its capital campaign team, along with the many generous donors who have made this new service a reality for our community," said Hennelly. "It allows us to provide advanced diagnostics, while supporting our efforts to provide our community with the finest emergency care."
Hennelly said the new Diagnostic Center is an important step in the hospital's ability to draw patients from beyond Sonoma Valley. He noted that financial projections show the Diagnostic Center increasing hospital net revenues by $1.5 million annually, when fully operational, in part because of physicians no longer having to refer patients outside of Sonoma Valley for advanced diagnostic care.
The Center also will strengthen the hospital's affiliation with UCSF Health and allow it to play a larger role in UCSF's Bay Area network. UCSF has committed to use SVH as its diagnostic center for its patients in the North Bay, Hennelly said.
The new Outpatient Diagnostic Center is the latest achievement in the hospital's multi-year goal to create a modern community hospital providing the highest quality patient care. In 2014, it opened a modern Emergency Department and Surgery Center, also funded entirely through a capital campaign. Over the past decade, the hospital also completed remodeling and updating many parts of the hospital, including private patient rooms.